Discover the Bentley Continental GT V8
Details & Equipment
Registration Date

24.03.2021
---
---
WELCOME TO BENTLEY ANTWERP


As an official Bentley Motors dealership, we offer a range of manufacturer approved services aimed at maintaining the power and performance of your Bentley.You can be confident every Bentley is made to the same exacting standards – new, or from the Certified by Bentley programme.
This standard is why every one of our pre-owned Bentleys bought through the
Certified by Bentley
programme includes an extendable 12-month warranty and a Certificate of Authenticity.
 

WELKOM BIJ BENTLEY ANTWERP


Als officiële Bentley dealer bieden wij een waaier van diensten aan die gericht zijn op het behoud van de kracht en prestaties van uw Bentley.U mag erop vertrouwen dat elke Bentley gemaakt is volgens dezelfde veeleisende normen, zowel nieuw als uit het programma Certified by Bentley. Die norm is waarom elk van onze tweedehandse auto's van Bentley gekocht via het programma
Certified by Bentley
een verlengbare garantie van 12 maanden heeft, en een Certificate of Authenticity. 
BIENVENUE SUR BENTLEY ANTWERP


En tant que concessionnaire Bentley Motors officiel, nous offrons une gamme de services approuvés par le fabricant visant à préserver la puissance et les performances de votre Bentley.Vous avez l'assurance que chaque Bentley est fabriquée selon les mêmes critères rigoureux de qualité, qu'elle soit neuve ou issue du programme Certified by Bentley. Cette exigence explique que toutes les voitures d'occasion Bentley achetées dans le cadre du programme
Certified by Bentley
s'accompagnent d'une garantie de 12 mois avec option d'extension et d'un certificat d'authenticité. 
Extended Range - Solid and Metallic
LED Welcome Lamps - By Mulliner
Mulliner Driving Specification with Black Painted Wheel - Exclusive to Continental
Black
Touring Specification
Front Seat Comfort Specification
Heated Windshield
Deep Pile Overmats - Front
Smoker's Specification
Battery Charger - European Adaptor
Bentley GPS Tracking System Full Fitment - Europe (In Addition to Standard
Alarm)
Naim for Bentley
Bentley Rotating Display
Digital TV Tuner (in Addition to Digital Radio)
Parking Heater
Remote Controlled Garage Door Opener
Valet Key
Welcome Lighting
Contrast Stitching
Fresh Air Intake and Air Ionizer
Bentley Dynamic Ride
City Specification
Continental Blackline Specification
Inductive Phone Charger
Mood Lighting Specification
Single Finish - High Gloss Carbon Fibre
Styling Specification
Standard Brakes with Red Painted Calipers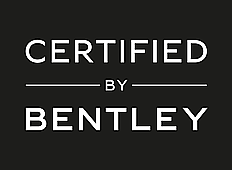 CERTIFIED BY BENTLEY
With a Certified by Bentley pre-owned car, your future looks extraordinary. Purchasing a pre-owned Bentley marks your entry into an exclusive world that few get to experience – one built on a century of unrivalled craftsmanship and breathtaking performance, driven by a community of like-minded and inspirational Bentley owners.

Choose a Certified by Bentley pre-owned model for a range of exclusive benefits including a 12 month warranty. Find out more about the benefits of Certified by Bentley and explore our full range by getting in touch on +32 (0)3 663 63 63 or by visiting Bentley Antwerp in person.